Maximize the safety and functionality of your building with automatic doors. Our automatic door operators meet ADA Compliance requirements, allowing all guests to maneuver effortlessly throughout your commercial space, while also self-closing to help enhance safety.
Our security experts at Assured Security can help choose the right door opening solution for your property while keeping your budget and needs in mind. Once selected, our electronic hands-free door openers will be professionally installed by our experienced team anywhere throughout Saint Paul, Minneapolis, and the surrounding Twin Cities metro area.
Contact us to discuss automatic door options for your business or property and to request your free quote.
Electronic Door Opening Mechanisms
We offer a variety of automatic door opening products, including:
Electronic door openers are an ideal solution for facilities with a high amount of foot traffic and deliveries. With automatic door operators, entering and exiting a building is simple for anyone with full hands or a mobility issue.
BENEFITS OF INSTALLING Automatic Door Operators IN YOUR BUSINESS
Minimize Germ Transmission
Automatic doors can help prevent bacterial and virus transmission by reducing the number of touches to communal areas like door handles and areas considered a risk of infection.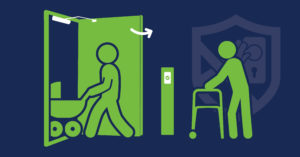 Manual doors can be difficult to operate when hands are filled with groceries or pushing a wheeled device such as a stroller, two-wheeler, or cart. Automatic door features can help reduce accidents by offering hands-free options.
Boost Visitor Satisfaction
ADA-compliant doors provide better access for everyone, including people with physical limitations.
Streamline security in your building with automatic doors controlled by a wireless transmitter or push button. This can help restrict public access to secure buildings, floors, and rooms.
Contact us at Assured Security to learn more about our automatic door options for your commercial space. We'll work with you to find a budget-friendly solution that fits your accessibility and security needs.
ADA EZ
Arrow
BEA
Benchmark
Besam
Condor Swing
Ditec
Dorma
Dor-O-Matic
ENTREMATIC
Falcon
Gyro Tech
Horton
K & M
Keane-Monroe
LarcoLCN
Linear
Magic Swing
Mid Swing
Motion Access
Multi-Code
Nabco
Norton
MS Sedco
Optex
Record
Senior Swing
Stanley
Tormax